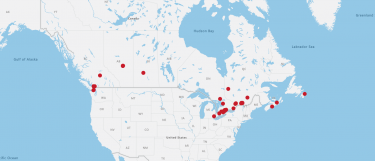 Diese Seite ist nur auf Englisch verfügbar.
HACA Regional Chapters are dedicated to building and maintaining a network of current and former students, graduates, researchers, staff, professors, and other friends of Heidelberg University at the local level. It is challenging to build and maintain an alumni organization over in a large country like Canada; Regional Chapters were established across the country to help us meet our members where they are. A Regional Chapter can be established anywhere where there is a geographical concentration of alumni, and where common activities can be organized.
Would you like to be part of the activities in your region? Do you live in a part of Canada that is not yet included? Can you help us find new alumni and friends in Canada? Don't hesitate to contact us!
Tabelle
| Region | Chair(s) | Contact |
| --- | --- | --- |
| Edmonton | Peter Nazaruk |   |
| Montreal | Petra Rohrbach |   |
| Toronto | Ali Toufighi |   |
| Vancouver | Melanie Solterbeck and Bianca Solterbeck |   |