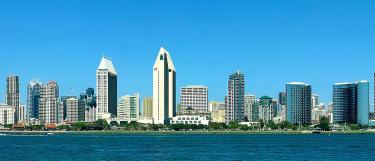 HAUS 12th National Meeting
Diese Seite ist nur auf Englisch verfügbar.
GOING WEST! THE HAUS 12TH NATIONAL MEETING IN SAN DIEGO, CA
This year our alumni from all over the U.S. went west to meet in sunny San Diego, CA, for the 12th HAUS National Meeting.
The weekend started in a casual setting at Soda and Swine with hearty meatballs and cozy fire tables. Our new Executive Director, Amanda Daquila, and new Program Assistant, Melanie Grossmann, welcomed the guests together with HAUS President, Kathleen Lance, and Director of Alumni International, Silke Rodenberg. Amanda and Melanie finally had the chance to meet in person with alumni and Kathleen, and we could not have been happier with the weekend kick-off.
On Saturday morning, the official meeting took place at the modern facilities at Duane Morris. A big thank you to our gracious host, alumnus Eberhard Rohm. Kathleen Lance opened the meeting by remembering the "30 Jahre Mauerfall" and presenting the HAUS annual report. After an official round of introductions, which led into a lively conversation about the "Deutscher Herbst", Amanda Daquila reviewed the recently conducted alumni survey and latest HAUS Scholarship recipients. Despite a challenging Lufthansa strike, Prof. Dr. Marc-Phillipe Weller, new Vice President of International Relations Heidelberg, was able to join our meeting and gave a detailed overview of new events happening in Heidelberg, including plans for the 4EU+. He also gave a promising outlook of the 2021 HAI celebrations in Heidelberg.
Director of Heidelberg Alumni International, Silke Rodenberg, concluded the official part of the meeting with a statistical overview of the latest HAI updates and by reviewing options to be part of the HAI/HAUS network. The last big announcement of this day was the location of the next and 13th National Meeting: Austin, Texas.