Scholarships
HAUS Scholarship
Our flagship scholarship program
Heidelberg Alumni U.S. (HAUS) is pleased to invite applications for the 2023-24 HAUS Scholarship. The stipends are available to qualified students from a United States university planning to study at Universität Heidelberg. 
The application period for the current cycle is now closed. The application for Winter Semester 2024-25 will open in early 2024.
The HAUS Scholarships are supported entirely by donations from the HAUS community and demonstrates their continued commitment to Heidelberg University and to providing opportunity for U.S. students. Please consider making a gift to the HAUS Scholarship Fund today.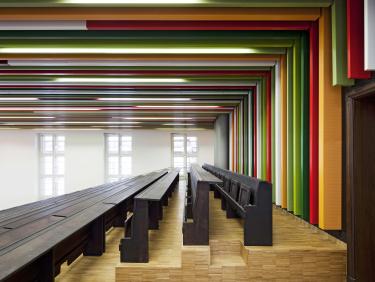 ABOUT THE HAUS SCHOLARSHIP
The scholarship award is $5,000 for master's program students or $3,000 for bachelor's program students for one semester with the possibility to extend for a second semester, pending availability of funds.
We are seeking candidates with a strong academic background who can also fulfill the role of ambassador for HAUS upon their return from their study abroad experience.
Heidelberg University consistently ranks among the best universities in Germany and the world. For over 600 years, research has grounded scholarship, sparked international cooperation, and fueled innovation at Uni Heidelberg. Whether increasing women's visibility through structural change, seeking to address society's challenges across disciplinary boundaries, or supporting researchers in translating their findings into startups, Heidelberg University puts research into action. Heidelberg boasts a world-class education and offers students an affordable and high quality of life in one of Germany's most beautiful cities. The green hills of the Neckar Valley region boast a rich student life, including cultural events, sports, and year-round recreational activities, all within one hour of Frankfurt International Airport.
HAUS Scholarship Candidates must meet the following requirements:
Undergraduate or master's program student with strong academic credentials enrolled at - or graduated from - an institution of higher education in the U.S.
United States residency
Acceptance as student at Heidelberg University (proof can be submitted at a later time)
Note: Students currently enrolled at Heidelberg University or who are already receiving a scholarship from a different source are not eligible for the HAUS Scholarship.
The application period for the current cycle is now closed. The application for Winter Semester 2024-25 will open in early 2024.

I had the pleasure of interacting and forming friendships with talented students from all over the world. This international community is reflected not only the student body of Heidelberg University, but also within the scientific institutions in the city itself. This level of international collaboration has been invaluable towards my professional development. My medical education has already required a significant financial investment, and without support, I would not have been able to to study at Heidelberg University.
Mohammad Saad Farooq, Master's of Translational Medical Research (2019)

The HAUS Scholarship has provided me with a unique opportunity to apply my research skills, zeal, and cultural knowledge of the South Asian region in a distinct and socially relevant way, equipping me to participate fully in positive change for the future. I want to sincerely thank the Heidelberg Alumni U.S. for investing in me; as a result, of your dedication and guidance I was able to bring my goals to fruition.
Fahiya Rashid, Master's of South Asian Studies (2018)
EXPECTATIONS FOR HAUS SCHOLARSHIP RECIPIENTS
Successfully complete your academic program at Heidelberg University.
Register with Heidelberg Alumni International (HAI) upon arrival and cooperate with HAI while in Heidelberg.
Provide updates every three months on your time at Heidelberg University, including good-quality photos of yourself on campus or in town.
Participate in Heidelberg HAUS chapter events.
Serve as an ambassador for HAUS and Heidelberg University after completing studies in Heidelberg.
Adhere to all federal and local public health and safety regulations.