HEIDELBERG UNIVERSITY ASSOCIATION
About
Heidelberg University Association supports Heidelberg University's transatlantic cooperative endeavors, including academic partnerships, student and faculty exchanges, and maintaining the close ties between the university and alumni in North America.
Heidelberg University enjoys strong and long-standing ties with the United States. The first U.S. student enrolled at Heidelberg University in 1793 from St. Louis, MO. Its longest running student exchange program with the U.S., the American Junior Year at Heidelberg University, celebrates its 65th anniversary in 2023. Research on both sides of the Atlantic has enjoyed advances from a wide variety of collaborative efforts and partnerships between scientists from Heidelberg University and its counterparts in the U.S. and Canada.
Heidelberg University Association is a 501(c)(3) non-profit organization based in New York City.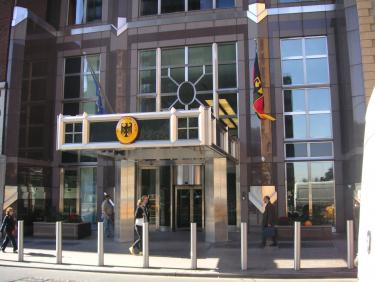 Mission
The primary focus of Heidelberg University Association will be to encourage, support, and promote the charitable, educational, and scientific activities of Heidelberg University. Our work builds the Heidelberg University alumni community and fosters relationships with students, researchers, and institutions in North America.
Vision
We envision a globally-connected community that fosters and advances Heidelberg University's capacity for producing world-class education, innovation, and research while strengthening the larger transatlantic relationship.
The Heidelberg University Association office sits in the German House, the hub of the German community in vibrant midtown Manhattan. This location allows for collaboration with the German Consulate General New York, the German Academic Exchange Service, the German Center for Research and Innovation, other German university liaison offices, and many other partner organizations and institutions.
Other International Centers
Heidelberg University Association is one of Heidelberg University's four international centers. Visit the sites for below to read more about our activities in Kyoto, New Delhi, and Santiago de Chile.