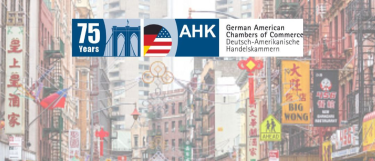 HAUS NY + GACC Walking Tour of Chinatown
Walk Awesome Tour of Chinatown
In cooperation with the The German American Chamber of Commerce, Inc. (GACC), we are very excited to present to you a very special event:

The WalkAwesome Tour through Chinatown
September 9, 2022 | 5:00 PM - 7:00 PM EDT

Bring your friends and family and let's re-connect with the city we all love. We will venture into one of the most exciting places of NYC: Chinatown - a neighborhood with many flavors, cultures, languages - and the second home of our guides. Meet the people who are rescuing, reviving, and reinventing this historic place, and get some souvenirs on the way!
The GACC NY graciously offered to all of our alumni and friends a special rate of $35 (regular $55) for this tour! Please take advantage of this opportunity and invite your family and friends.
Meeting Point: Fong On | 81 Division St, New York, NY 10002
End Point: Nom Wah Tea Parlor | 13 Doyers St, New York, NY 10013
GACC is managing the registration process for this event.
Click on "Register Now" (blue button)
Select: "Not a member? Click here to continue"
Enter promo-code HAUSWalk and hit apply
After entering your information you will see that the ticket price changes from $55 to $35.
Contact Melanie at mgrossmann@heidelberguniversity.org in case of any questions.
What is Walk Awesome? 
Walk Awesome is an immersive walking tour through New York City's neighborhoods, connecting you with the most fascinating people and places moving our city forward. Participants learn to see the city through the eyes of architects, designers and entrepreneurs and experience them in intimate conversations, all while walking and interacting with each other. Led and developed by journalist & entrepreneur Felix Zeltner in partnership with the German-American Chambers of Commerce, this 1.5-hour immersive walking tour with convenient bluetooth headphones leaves you with a new understanding about the future of New York City.
 
About the Speakers
Our guide is Felix Zeltner. Felix was born & raised in Nuremberg, Germany and worked as a reporter in various countries for ARTE TV, ARD Radio & Der Spiegel. Today, he is the founder & CEO of digital media company Remote Daily. He is also the co-host of the German-American Wunderbar Together podcast and the co-author of the bestselling book "Stadtnomaden".
Christina Horsten is the New York correspondent of the German Press Agency dpa. She grew up in Bonn, Prague and Berlin, where she earned her doctorate at the Freie Universität. She returned to her birthplace New York for dpa in 2012 and now lives there with Felix and their two daughters.