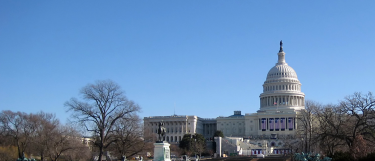 HAUS 15th National Meeting Washington, D.C.
Join HAUS September 22-24
Heidelberg Alumni U.S. (HAUS) cordially invites all former students, exchange students, graduates, researchers, professors, and other friends of Universität Heidelberg to participate in the 15th HAUS National Meeting on the weekend of September 22-24 in Washington, D.C.! We are looking forward to an informative and fun-filled weekend. You can find the program, registration link, and link to the hotel room block below.
Friday, September 22, 2023
5:00 PM                          Panel Discussion & Networking Dinner 
                                         Embassy of the Federal Republic of Germany
                                         Science and Technology Section
                                         "The Role of Academic Alumni in Science Diplomacy –
                                          State of the Art and New Perspectives in Turbulent Times"
Saturday, September 23, 2023
9:00 AM - 12:00 PM      HAUS Jahreshauptversammlung & Lunch
                                         Goethe-Institut Washington
1:00 PM                          Discover Washington, D.C. with HAUS D.C. (optional)
6:00 PM - 10:00 PM      HAUS Alumni Dinner Cruise - Welcome drinks sponsored by the
                                        American Junior Year at Heidelberg University!
                                        (Boarding from The Wharf DC)
Sunday, September 24, 2023
10:00 AM                       Casual Farewell Breakfast (optional) - Hyatt Washington DC
Register for the HAUS 15th National Meeting
Registration ends August 22, 2023
Book Your Room at the Hyatt House/The Wharf
*Book your room by August 22, 2023, to receive the promotional group rate. Anyone needing additional nights at the hotel outside of those for the HAUS National Meeting should please contact Julie Callaway directly at julie.callaway@concordhotels.com.
Welcome Packet - HAUS National Meeting 2023